The LRCC Inaugural National Specialty was held on August 28, 2016 in conjunction with the Stormont, Dundas, & Glengarry Dog Association's All-Breed Show in beautiful Long Sault, Ontario.
The Stormont, Dundas, & Glengarry Dog Association's show will encompassed 4 all-breed conformation shows, 19 specialties and much more.
Click here to view the Premium List of the event.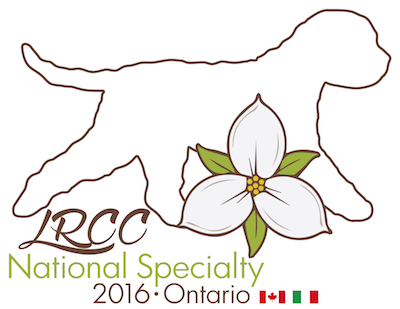 Best of Breed
Full dei Boschi D'OroOwned by: Scott VandePypekampBred by: dei Boschi D'Oro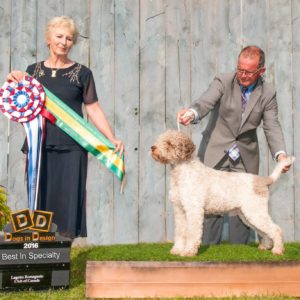 Best of Opposite
Il Granaio dei Malatesta RosinaOwned by: Kathy HaglofBred by: Il Granaio dei Malatesta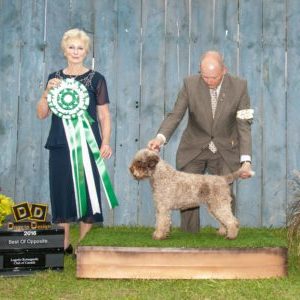 Best Puppy in Sweepstakes
Our Judges
Sandy Mignogna – Sweepstakes
Sandy is a breeder and long-time lover of the Lagotto Romagnolo and currently serves as the revered President of the Lagotto Romagnolo Club of America. She is currently serving her 5th year on the Board of Directors of the club and also participates in the Judges Education Committee, chairs the Breed Education Committee and served both the Marketing and Show Committee for 5 years. Sandy also mentors judges with regards to the breed standard and conformation.
Sandy's involvement in the dog fancy began in 1992, she earned her first championship in 1993 and had her first litter the very following year. Sandy is no stranger to rare breeds and has been studying the Lagotto since 1997. In 2002, her passion and study of the breed was fortified after having met a "giant" in the breed, esteemed breeder Luciano Bernabei of "delle Farnie" kennels. In the years that followed, Sandy has met countless Lagotto all over Europe and North America and has built lifelong friendships with renowned breeders all over the world. Over the past 7 years, Sandy has been showing and breeding Lagotti as "Dolce Vita" and currently owns/co-owns 12 of her own. She has attended 4 Italian Radunos where over 200 Lagotti competed and was also a participant at the World Dog Show 2015 in Milan which was judged by Dr. Morsiani. Sandy's Ch. Dolce Vita Livia is ranked 5th in breed standings in the USA and her dogs enjoy everything from agility to conformation to scent work.
Sandy is mentored by Serena Bernardi. Serena is one of only three breed specialists in the world approved by Dr. Morsiani to judge the Lagotto. Serena has done several ringside mentorings with Sandy and has had the opportunity to do multiple hands-on training sessions with her.
The Lagotto Romagnolo Club of Canada is absolutely honoured to have Sandy join us and judge our Sweepstakes.
Esther Joseph – Regular and Non-Regular Classes
I have been involved with dogs since 1970 where my English, Irish and Gordon Setter shared a home with a Saluki and Borzoi. I have bred Gordon Setters under the "Triseter" prefix for over 40 years and more recently also breeding and showing Pugs, I have bred English Setters, Irish Setters and owned and shown American Cockers Spaniels, Pointers and Tibetan Terriers, plus I have handled most breeds in the Gundog and many in the Toy and Terrier Groups.
My kennel name is 'TRISETER' this name came about from my heavy involvement and owning, breeding and showing three of the Setter Breeds.
I have taken many dogs through to Best in Show at All Breeds Shows and Speciality Shows. Over the years I have handled many different breeds, with the pinnacle being handling and winning Runner Up In Show from an entry of 291 Gordon Setters at GORDONS2000 (a Gordon Setter Specialty) in England with a Gordon Setter bitch I bred that lived in Finland.
Previous to the above I thought that my Best In Group 8 (FCI) win with a Curly Coated Retriever at the World Winners Dog Show in Finland in 1998 was one of the highlight of my show/handling career.
In Australia my pinnacle has been breeding and handling the BEST IN SHOW Adelaide Royal 2012 with Gordon Setter Supreme Ch Triseter Celtic Ice.
My judging has taken me extensively throughout all States in Australia, and I have judged many Breed Specialities through out Australia and overseas.
Overseas I have judged at GROUP and BEST IN SHOW level and issued CC's, CAC's and CACIB's at FCI level in Denmark, Finland, Italy, Sweden, Germany, Ireland, Switzerland, Indonesia, Japan and have also judged and issued CC's in USA, New Zealand, Canada, South Africa, and England.